TEXTURES DE SURFACE/MATERIAUX NATURELS SURFACE TEXTURES/ NATURAL MATERIALS
Parmi un grand nombre d'éditeurs de mobilier exploitant les possibilités du bois il y avait quelques-uns qui avaient choisi des matériaux non-synthétiques autres, parfois mélangés avec des matériaux crées pas l'homme. Voici ceux qui nous avait séduit:
Still a large quantity of natural wood furniture, mostly in a mid-century style, but some designers chose other natural materials, and sometimes combined them with man-made ones….here are some that we particularly liked:
BINOME
Unemarque française à l'origine du très beau mobilier avec du chêne ou du robinier, du résine laqué, du fibre de verre et du tissu, mélant les procédés artisanaux aux techniques de pointe. Nous aimons le contraste entre le bois brut naturel et les formes très lisses et dodues en résine.
www.binomedesign.com
A French brand that creates outstanding furniture using oak or black locust wood, resin laquer, fiber glass and fabric, mixing artisan know-how with latest technology solutions. We love the contrast between rough natural wood and the very smooth and symmetrically round resin and fiberglass.
BLACKCORK
La société Sofalca a utilisé son produit industriel à vocation architecturale, le liège noir résultant d'un processus 100 % naturel, pour produire du mobilier crée pas la nouvelle garde de designers portugais. On adore la ligne « CUT » ainsi que la combo Liège sombre + bois naturel.
www.blackcork.pt
The Portugese company Sofalca has taken its industrial architectural product, transformed black cork, resulting from a 100% natural process, and commissioned a new generation of Portuguese designers to create a line of furniture. Loved the « CUT » chair and stool as well as the very dark brown cork combined with natural wood.
BETHAN GRAY
Ses merveilleuses tables, consoles et plateaux sont déjà des classiques! Du marbre de Carrare et de Maquina forment des motifs graphiques dans la ligne « Alice », ici posés sur une console en marbre noir arborant sa bordure signature.
www.bethangray.com
No need to introduce this British designer with her fabulously crafted tables, consoles and tableware! Carrara and Maquina marble are graphically combined in the « Alice » series, placed on a black marble console with her trademark border detailing.
COLONEL
Dowood, une charmante ligne de lampes à poser en fines feuilles de bois de sycomore peintes à l'aquarelle.
www.moncolonel.fr
A charming line of lamps with shades of thin sheets of sycomore painted in ombré watercolor.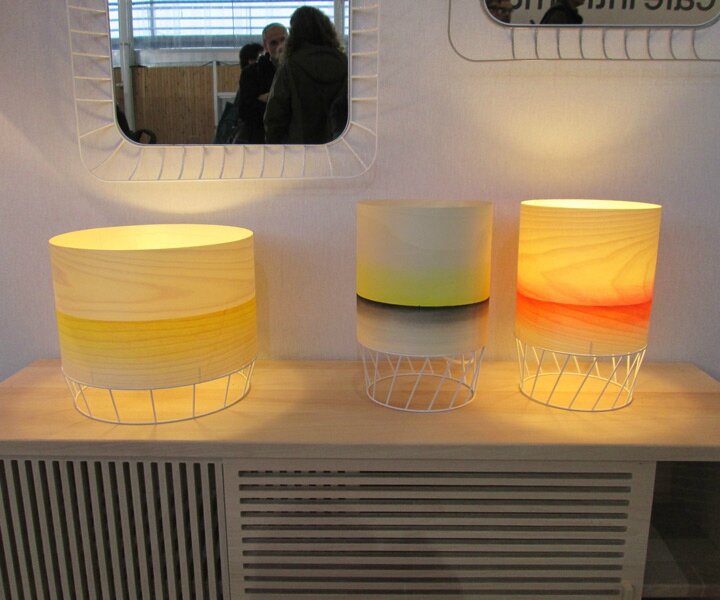 HAYMANN
Des tabourets, des tables d'appoint et des lampes dans des matériaux très inattendus! Les tabourets et tables basses ci-dessous sont en verre soufflé, translucide, coloré, argenté ou doré ou chromé dans la masse.Les petites tables en couleurs pastel sont crées avec un plateau fin en onyx laissant passer la couleur de la plaque en verre de dessous.
www.haymanneditions.com
A slew of stools, tables and lamps in unexpected materials! The stools and side tables are blown glass, either translucid, colored glass, silver or gold tinted and even chromed. The smallish pastelly tables are colored glass covered by a thin sheet of onyx, letting the color through in a frosty way.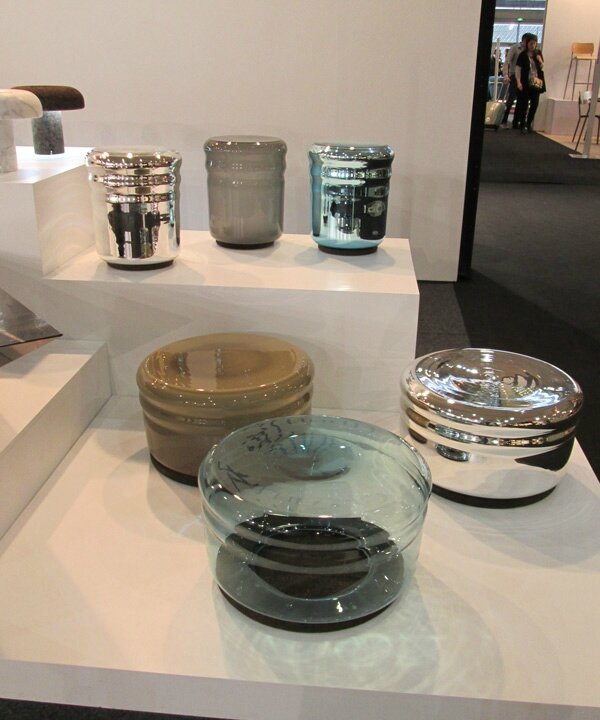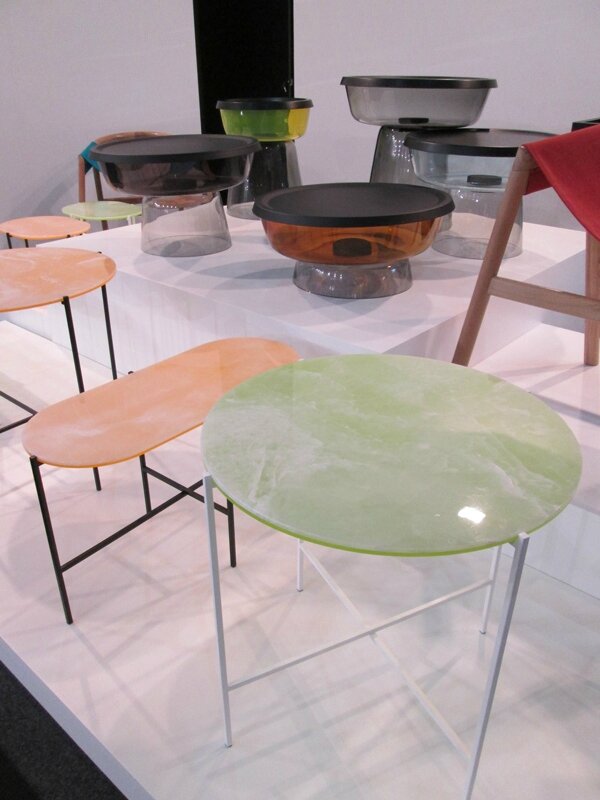 DUWEL
La ligne « Campagne Chic » avec ces bancs, poufs et coussins en paille réhaussés de parties en cuir, nous a vraiment surpris, impossible de pas trouver l'idée drôle et sophistiqué en même temps. Suivant une logique écologique et local pour les matériaux et l'artisanat (Le Var, Italie) les créateurs de cette marque négligent en rien la qualité des finitions et des matières premières.
www.duwelinside.com
Their « Campagne Chic » line on benches, foot stools and pillows really surprised us, it's impossible to not find their idea hilarious and sophisticated at the same time. Ecological and local materials, local production (southern France and Italy) and beautifully crafted finishings and trimmings make these products irresistible.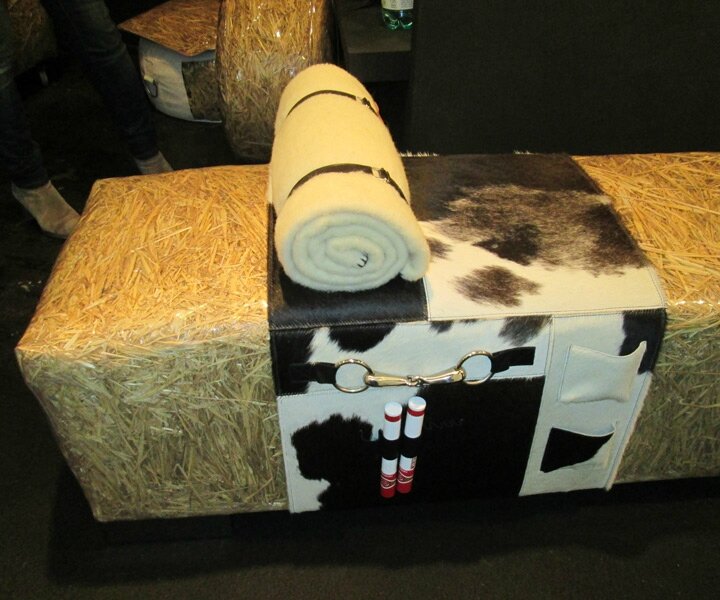 Y'A PAS LE FEU AU LAC
Très beaux travail sur des tables en hêtre avec une laque blanche inséré dans les sillons du motif et sur une extrémité du plateau!
www.yplfl.com
Such finely crafted beech tree side tables, white laquer filling the carved out motif and part of the table top!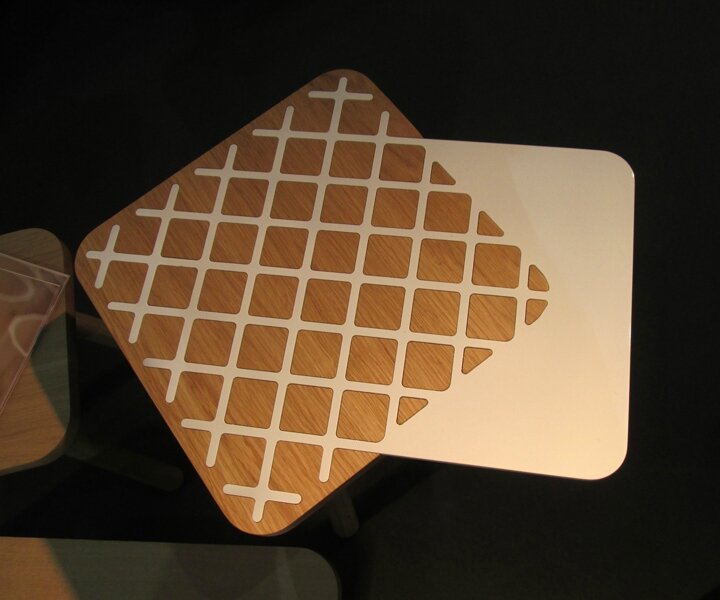 SELETTI
Très mignons et contemporains leurs armoires et commodes en portrait de pixels géants!
www.seletti.it
Super cute pixellized portraits on these armoires and drawers!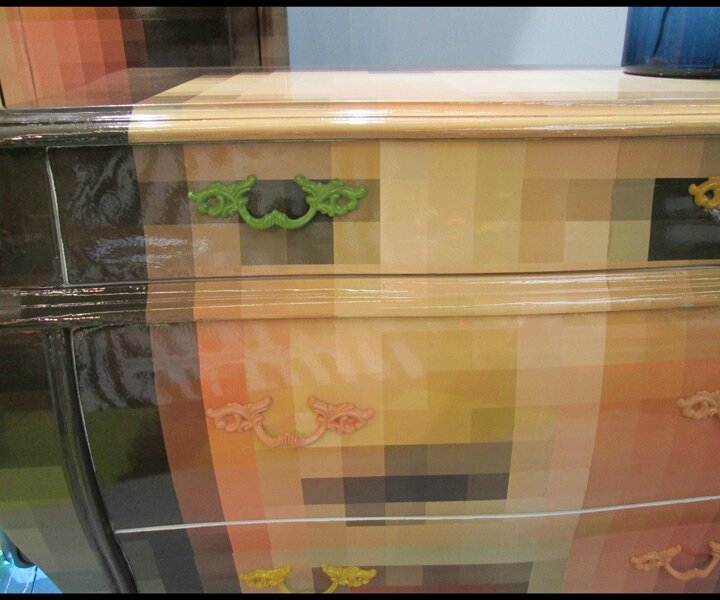 TEXTILES & GRAPHISMES TEXTILES AND GRAPHIC DESIGN
VALLILA
Des textiles, des papiers peints et des tapis au graphismes affirmés proposés par la marque finlandaise crée en 1935, et nommé d'après un quartier d'Helsinki.
www.vallilainterior.fr
Arresting patterns on textiles, wallpaper and rugs shown here by the Finnish company Vallila, started in 1935 and named after a Helsinki neighborhood.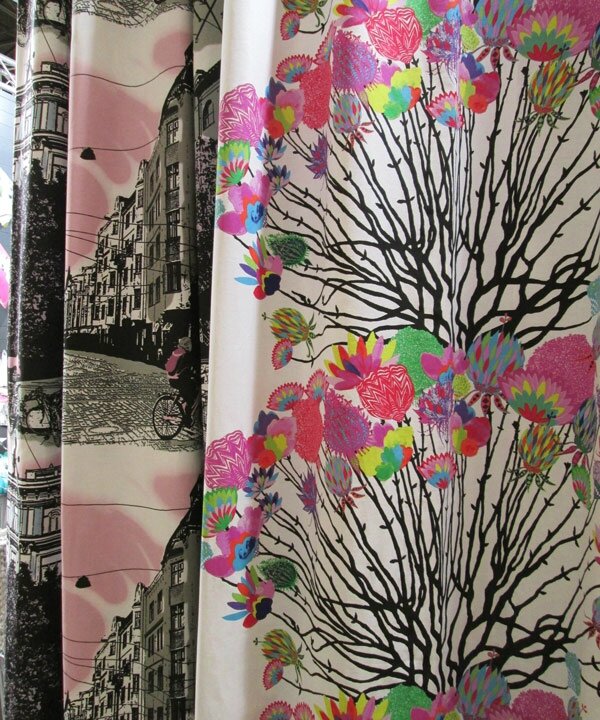 PICULET
Un mix & match de motifs et de matières super coloré, à consommer sans modération!
www.piculet.com
A colorful mix&match of designs and fabric combinations, makes you just want to grab them all!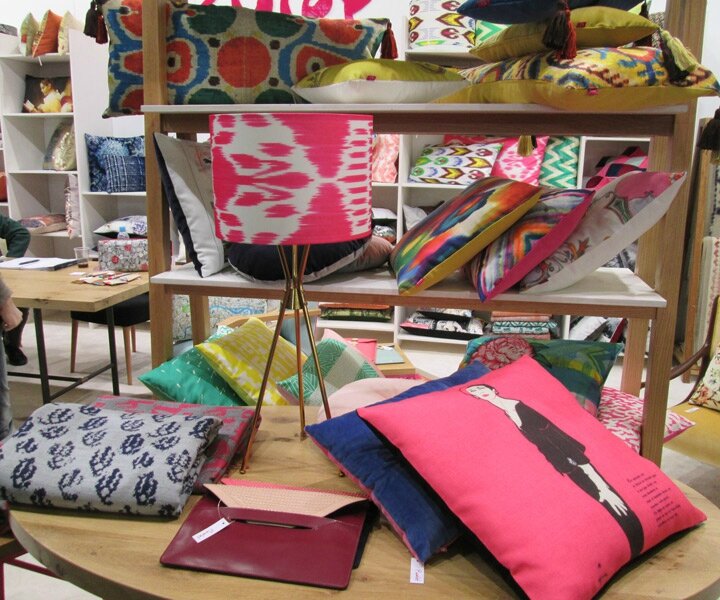 GIEN
De la vaisselle et des textiles avec des dessins de fables réactualisés dans un style d'illustration très contemporain.
www.gien.com
Tableware and kitchen textiles arboring contemporary style illustrations of the Fables.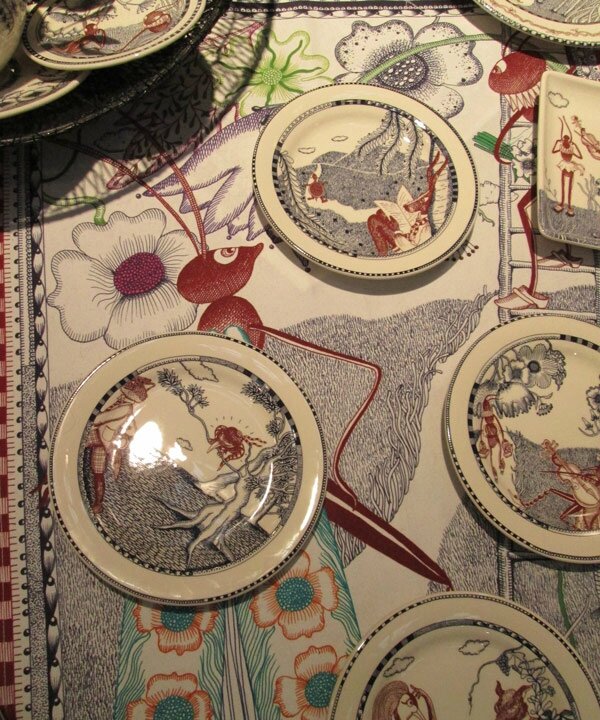 SILKEN FAVORS
Des coussins de toutes formes et des foulards et soiries en tout genre comme support pour les illustrations de Vicky Murdoch.
http://silkenfavours.com
Fun and intricate illustrations on silk, cushions, pillows, scarves , lots of cute animal themes illustrated by Vicky Murdoch.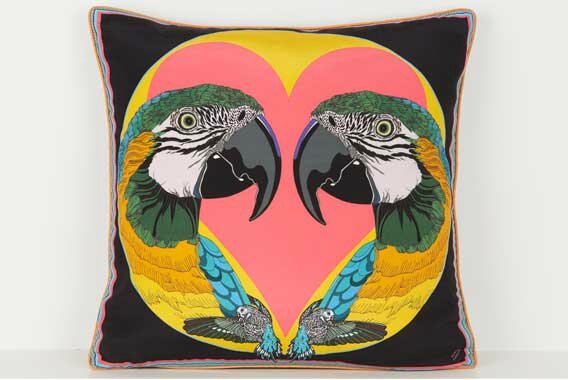 ARTS DE LA TABLE TABLEWARE
COOKUT
Editeur de produits pour la cuisine, la table et la maison, Cookut propose cet ingénieux bouchon en silicone, simple et efficace!
www.cookut.net
A company that creates lines for cooking, dining and the home, featuring here a very practical and marvelous bottle cork!
NICOLAS CORRE
Dessous de plats, vides-poches et centres de table en forme de Manhattan fait en acier peint à l'epoxy, à combiner soi-même.
www.nicolascorre.com
Trivets, fruit dishes and center pieces in the shape of upper and lower Manhattan, to be combined if wished, all in powder-coated metal.