NATURAL MIXES

Novelty print trends being scarce at Summer 2013's PV, one couldn't miss the sudden burst onto the scene of neon colors. They were found on every type of print or fabric, along with some chintzy and iridescent effects here and there. Micro trends for next summer include the vegetable garden theme, coupled with large florals in bold or engraving styled prints. Also noted were photo print flowers and fantasy world blossoms. The Hawaiian theme was represented by two-tone neon jacquards and Toile de Jouy styled scenes. Midi and maxi florals often sported white or off white backgrounds, creating a fresh, breezy impression, aquarelly and pastelly effects still going strong. Also seen, black & white outline designs superimposed by colorful florals.

Pour la saison Eté 2013 nous avons noté une certaine pauvreté de nouvelles tendances d'imprimés, mais personne a pu rater l'omniprésence du fluo, aussi bien dans les imprimés que dans les tissages, ainsi que le retour des effets chintzés et iridescents. En guise de surprise il y avait des imprimés composés de produits du potager melangés avec des grands floraux, dans un style contrasté ou gravure d'herbarium. Beaucoup d'effets photo et de fleurs fantastiques et fantaisistes. Le theme hawaïen a été renouvelé par des jacquards bi-colores fluo & blanc et aussi par un traité dans l'esprit des Toiles de Jouy. Les floraux midi et maxi se déclinaient souvent sur des fonds blancs ou ecru, apportant une brise de fraicheur aux motif aquarellisés et pastellisés. A noter quelques imprimés mixant des styles opposés, tels que dessin au trait noir sur fond blanc avec superposition de fleurs colorés.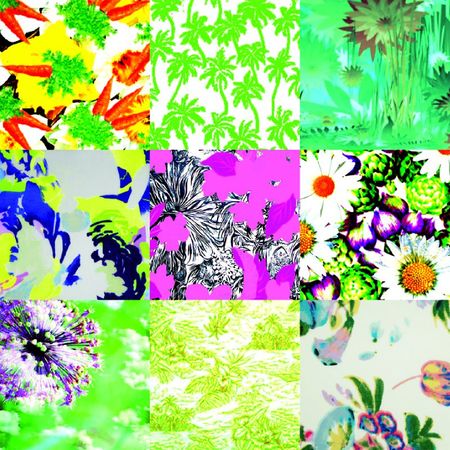 BLURRY ABSTRACTION

This season's abstract & geometric prints were all about blurring the picture, either by superimposed dots/shapes, semi-translucent layers, undulating lines, Escher-styled optic illusions, shaded colors and also sharp shapes enclosing fuzzy photoprints. The summer tartans and checks were equally blurred by seersucker and lurex thread effects. The triangle seemed to be the hit of the season, whereas hand drawn sketchy designs brought some lightness and spontaneity to the geometric trend.

L'objectif des motifs abstraits de cette saison semblait être de vouloir brouiller toutes les pistes, soit par des mini-motifs superposés, soit par des couches translucides ou par des traits ondulants allant vers des illusions optiques à la Escher, soit par des dégradés et des images photos à l'intérieure de formes pointues et bien délimitées. Les carreaux d'été ont été déclinés en seersucker et/ou tissés avec des fils lurex pour un effet de lignes en mouvement. Les triangles ont eu leur heure de gloire à cette édition de PV. Quelques imprimés aux motifs dessinés à la main levé apportait de la légèreté et de la spontanéité à cette tendance d'abstraits.